THE LATEST THINKING
The opinions of THE LATEST's guest contributors are their own.
A Social Distancing Birthday
Yes, you can celebrate your birthday in these difficult times. It just won't be the typical hoopla.
New York City is in poor shape now, and any chance to find some happiness is welcome. My birthday arrived and I'd wondered how to celebrate. I knew I'd have to adapt, do certain things in advance, and be thankful for anything good.
I bought birthday balloons, flowers and a cake in the days prior to my birthday (April 7) and I decided to host a Zoom teleconference, letting family and friends know beforehand via email and on Facebook.
The day started out well, with very nice weather, and the sun was out most of the day. My younger daughter gave me a handmade birthday card that is exquisitely drawn; my older daughter and husband contributed simpler sketches to the inside.
I did indulge in one of my annual birthday treats: listening throughout the day to WKCR, 89.9 FM which always holds a day-long tribute to the music of Billie Holiday. Her one-of-a-kind voice was my audio companion today.
In the late morning I did something for the first time, which is also a great thing to do on your birthday. I drove out to visit the Shirley Chisholm State Park in Brooklyn, near the Belt Parkway. It just opened a few months ago. Although I could hear some of the highway noise, I also listened to ducks and to the wind rustling in high reeds. I saw other birds and the calm waters of Hendrix Creek, which empties into Jamaica Bay. Just a handful of hikers and bikers were out as well.
After lunch my family and I sat out on our front steps and a close friend came by with her daughter. We had a "curbside talk," which seems so current, yet it also has the tradition of hanging out on our "stoops" (Brooklyn talk).
I rested a bit, and then chatted on the phone with another old friend of mine, my "unofficial big brother" who turned 60 a few weeks ago.
Later we got take out food from a restaurant we like called Werkstatt, in the Prospect Park South neighborhood. We can't eat there but we ordered over the phone, and picked it up at the door.
After dinner I did something else new: held that Zoom teleconference call with family and friends. A few people had trouble navigating the controls, but I was able to see and speak with my brother and his family, a few cousins, and friends from various stages of my life.
And after that my husband and I stood on our stoop and gazed at the Pink Moon super-moon, intermittently covered by clouds, while listening to the Nick Drake song Pink Moon. Throughout the day I received other phone calls and greetings via Facebook.
Combining traditional and newfangled, I was able to cobble together a rather enjoyable and memorable birthday. I am so grateful for my health, my family and friends, and for the ability to be adaptable. Be well, everyone.
THE LATEST THINKING
Webisode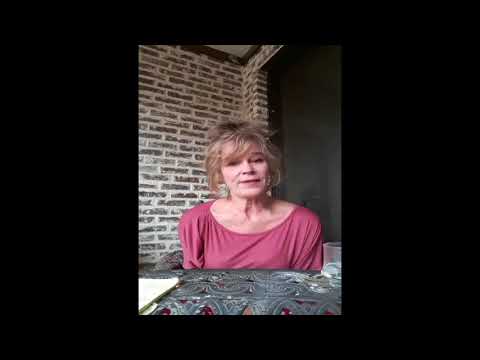 Meet Tammie Wilson, Director of Administration at THE LATEST