THE LATEST THINKING
The opinions of THE LATEST's guest contributors are their own.
Learning To Make Decisions For Yourself
There are certain lessons we all need to learn at every age. Now, at the latter part of my life, I am discovering that the thing I have missed doing is to learn how to make decisions for myself.
There are days when we are faced with problems that we must solve ourselves. Today has been one of those days for me.
My daughter lives far away and is very ill. I am only able to communicate with her via e-mail, so I have been sending her poems every afternoon my time, and hoping that they help her to deal with the issues that are confronting her.
Yesterday she sent me a response that was extremely upsetting. Difficult problems have turned up in her life, and I found myself at a loss, looking for something I might do to help her get through them. I went so far as to write to a wonderful woman who also lives in Florida, asking her to please contact my daughter with some ideas as to how she can find someone to come to her home to provide care when my daughter's husband is at work, as his job requires that he be away from home for very long hours.
The woman did try, but it seems that they live very far from one another. Florida is a large state, and their homes are three hours apart. As far as I know of now, the woman apparently did try, but nothing concrete appears to have come of their correspondence. Who knows? Perhaps good news may be coming my way.
I awoke this morning full of fear, and turned to my husband for help. He had no magic answers for my situation. As we were both born in the same year, he too is not well and was not in the frame of mind to offer me any perfect solutions. From his perspective, it was best that I continue to send the poems I have been writing to my daughter and not tell her that I am feeling upset because of her latest message. His advice appears to be on target, so I will not say anything about myself when I write the poem.
When I close this article I plan to write another poem to my daughter. That is a decision I made less then a week ago, and which I will continue to pursue. All that I can do is to make that choice with which I feel most comfortable. The lesson is that only I can decide what is the best thing for me to do, and I continue to pray that God will help her as well as say thank you to the wonderful woman who so kindly tried to assist in her search.
As I sat at the computer alone, I became very upset when my husband decided to go out shopping. I am now calmer because I had a chance to come to my own conclusion. I have decided to do what I have been doing and pray that my choice is correct.
THE LATEST THINKING
Webisode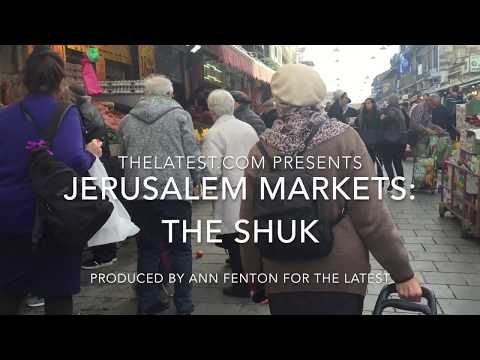 Jerusalem Markets: The Shuk