THE LATEST THINKING
The opinions of THE LATEST's guest contributors are their own.
You'd think that now, of all times in history, doctors would actually see their patients on time so as to avoid crowded waiting rooms. Nope.
I'd love to meet the brilliant idiot who first called a doctor's client a 'patient,' because that's the last thing I am. Can you remember the last time your doctor was actually ON TIME? I can't. Once, I sat in the stirrups waiting for my gynecologist for almost an hour. Finally, I walked out into the hall only to be told, "Why, we plum forgot about you!"

Now my grandmother brought me up to "Never keep anyone waiting. Their time is just as important as yours." So, unless a sinkhole opens under me, I'm on time. Yesterday I arrived at 1:50 for my 2 PM with the dermatologist and asked the receptionist:
"Is Bozo running on time?"
"Oh, yes, I believe so."
"You 'believe?' Or is he actually running on time?"
"Well, you're up next!" she replies cheerily. (Not a lie—but not exactly the truth either).

I poll the patients in the waiting room just to be sure. Three of us have the same doctor, and we're scheduled 10 minutes apart. What I don't account for are the ones already inside waiting rooms. At 2:20, I'm finally called back, and the nurse hands me a paper gown.

"Take everything off except your underwear and put this on," she commands.
"I think I'll wait," I reply.
"What?"
"Well, last time I sat here almost an hour wearing that flimsy thing and froze. So, this time, I'm waiting until the doctor is actually coming in."

She wasn't pleased and left in a huff. A full 20 minutes later, she returned.
"You can put the gown on now. The doctor will be right in."

I put it on, then waited. Finally, I got up and paced until I found a warm corner in the room and stood there--fuming. At 3 PM, he made his entrance.
"What are you doing over there?" he asked.
"Waiting for you," I replied, "and it's warmer over here."

I wanted to say, "Do you think I have nothing better to do than sit in a cold, claustrophobic room waiting over an hour for you? Given your superior education, why can't you schedule your patients so you actually see them on time? Do you realize that you have never been on time for our appointments, not even once?" Instead, I smile politely. After all, he holds the hypodermic and scalpel. I'M (just a) PATIENT.


THE LATEST THINKING
Webisode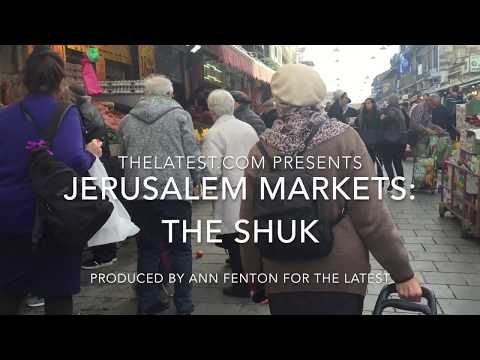 Jerusalem Markets: The Shuk