THE LATEST THINKING
The opinions of THE LATEST's guest contributors are their own.
Thankful For Tradition: Southern Brooklyn's Holiday Lights
Some things haven't changed in the age of the pandemic: the Dyker Heights and Bay Ridge Holiday Lights are still up and shining in southern Brooklyn
This winter holiday season is shaping up to be vastly different than in the past, but one fun tradition that has been maintained is the Dyker Heights and Bay Ridge lights. Brooklynites and New Yorkers, in general, know that the southern Brooklyn neighborhoods of Dyker Heights and Bay Ridge are famous for houses dolled up with colored lights, inflatable Snow Men and Santas, and lots of other kitschy and bright decorations.
I remember going on occasion when I was a teenager, driving around with my parents to see homes modest and huge, decorated with Christmas lights and other items. Trees, bushes, porches, windows, handrails, lawns, you name it, they've been gussied up. Bright lights and giant candy canes, oversized wreaths and colored stars are all part of a yearly December tribute to Christmas, neighborly competition, and creative fun.
Saturday evening, December 5, my husband, two daughters and I drove slowly through these two neighborhoods, oohing and aahing at many homes that were decked out with holiday lights and much more. There are other parts of New York City (and Brooklyn) that are known for this opulence, but Dyker Heights (and Bay Ridge to a slightly lesser extent) are celebrated for their especially bright, over the top decorations that pierce the night sky.
We were surprised that it wasn't crowded when we drove around, but it will get more crowded as it gets closer to Christmas. People come from all over the city and take photos, get decorating ideas of their own, and enjoy a night of fairly innocent and cheerful entertainment,
At one intersection, however, we saw the aftermath of a car accident. Ugh. I made sure to be extra careful driving around here because some drivers are too distracted by the views.
Some streets have such a wow-factor, and my younger daughter knew to steer us toward a particular block in the 80s that has several amazingly festive houses. This blue-light special is super charming. Some mansions would be tourist draws without the holiday getups, and with them they are stupendous.
Two of my favorite houses this year were this house with the purple accents, and this one with the peace signs.
Several years ago we drove around one time, and I snapped black-and-white photographs which I actually developed at home. I miss doing darkroom work, but these days I just use my cellphone to capture beautiful images such as this.
This is also a fun and healthy way to appreciate the holiday season; we were very socially distanced. There are so many things people won't be able to do during December, so it's heartening to partake of the Height-Ridge tour.
Afterward, we drove over to Coney Island, to see the landmarked Parachute Jump that is lit up by the famous boardwalk. We drove into the MCU Park parking lot, where the Brooklyn Cyclones minor league baseball team plays, and admired the Jump's light show.
Brooklyn is never boring!
THE LATEST THINKING
Webisode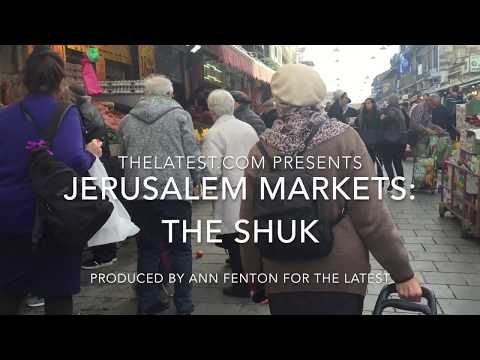 Jerusalem Markets: The Shuk