THE LATEST THINKING
The opinions of THE LATEST's guest contributors are their own.
Video Game Reviews From an On-Looker: "Zelda: Breath of the Wild"
Because sometimes, watching someone who is good at video games is way better than trying to play yourself.
I grew up with two brothers who are seven and nine years older than me. That means that when my oldest brother was 15 and playing Ocarina of Time, 6-year-old me was mesmerized. I was too young to even fathom what all those buttons did and the game was so visually stunning, that it was like watching an endless cartoon.
Cut to almost 20 years later, a new Zelda has just come out, and here I am again, sitting on the couch, this time watching my boyfriend adventure through the Kingdom of Hyrule.
Source: Wccftech
The game is beautiful. Vast green landscapes, snow-capped mountains, wild horses and wolves galavanting across the plains . . . Along with the adorable tree creatures and majestic dragons, it's like exploring the world of a Miyazaki movie.
While I must admit, the cooking and Korok seed-finding aspects of the game are by far my favorite, there are some pretty great fight scenes going on throughout the story, too.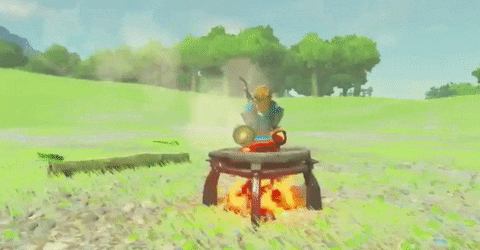 Source: Giphy
As someone who doesn't have a talent for solving the puzzles or fighting all the bizarre creatures in Breath of the Wild, I find watching someone who does have a knack for it to be so much fun.
It's like a choose-your-own adventure movie. "Go over there!", "what's that!?" and "befriend that dog!" have become common exclamations in our household (maybe I'm somewhat of a backseat player). I'm not the only one either -- I've spoken to other people who have watched the gameplay and they also find it to be fun.
Where sports video games and first-person shooters can be tedious and boring to an on-looker, the Zelda games follow a real story. There's so much to do and the world is so big, that you couldn't possibly get bored. Sure, I get over all the fighting at some point, but then you go visit some broccoli-shaped guy who shakes his maracas around and does a funny dance, and all is good again.
Source: Gameranx
I recommend you watch and/or play it now if you haven't yet.